Be sure to hit the refresh button on price lists to make sure you are viewing the most current list

After 20 years of selling daylilies belonging to over 160 hybridizers, Browns Ferry Gardens is finally going to focus on our own cultivars. We are in the process of downsizing the garden from over 1400 cultivars to less than 400!
by Charles & Heidi Douglas, Gene Tanner,
Joe Lawrimore or Tom Nesmith.
You can see all of our new 2014 introductions here.
We still have a general listing of cultivars in the garden that we have used to hybridize with. Those can be found in the price lists. Be sure to check out the great prices!
We will be open on Fridays and Saturdays from 9AM to 4PM from May 23rd - June 21st. Otherwise will be by appointment.
We will still be holding our annual open house on June 7th and 8th, we look forward to seeing you there.
We are looking forward to the changes 2014 will bring and being able to focus on marketing our own flowers and communicating more with our customers.
Many thanks to our loyal customers over the past 20 years. We hope you are with us for another 20! We look forward to seeing many of you at our annual open house the first weekend in June and talking to many of you personally over the phone in the season to come!
We are very proud to be introducting four flowers from Tom Nesmith. Tom was a very dear friend and before his passing gave us all his named daylilies along with about 100 seedlings. After 3 years we have selected four of them to bear the names of family that was dear to him. We miss you Tom!
Be sure to check out the seedling gallery.
We have quite a few pictures of the beautiful daylilies hybridized by Charles, Heidi and Gene.
Don't forget to let us know what you think!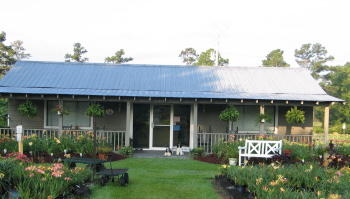 Attention Daylily Clubs! Place your club order with us and we will ship double the value of your plants. This is for clubs only and minimum order is $500.00 and must be paid for with a club check. If you are looking for a speaker, Charles and Heidi are available for presentations. Just call and we can confirm a date.
Charles and Heidi are usually in the garden on the weekends (except when traveling to speak to daylily clubs), but if you would like to speak with them, feel free to call any evening at 843-546-6419. We love to hear from all of you!
For garden visitors, we offer the convenience of container grown daylilies. Container-grown daylilies do not have to be planted right away. They will continue to grow and bloom until you have the opportunity to plant. In climates such as ours (Zone 8), we can transplant from containers to beds virtually year round. Mail order plants are shipped bare rooted, but they are straight from the containers and suffer less stress than plants that have been dug and divided.
Visitors will also find a comfortable sales office with a clean restroom, air conditioning, and couches. There are also rocking chairs and a swing on our large front porch that overlooks thousands of daylilies.
Thank you for your continued support. We hope you enjoy our website.
---
DAYLILY CLUB PURCHASES
Order minimum of $500.00 worth of daylilies and receive double your value!!
Must be paid for with club check. Shipping costs will be determined at time of shipment.
GIFT CERTIFICATES
AVAILABLE IN ANY DENOMINATION. JUST CONTACT US VIA EMAIL, PHONE OR FAX.
DIRECTIONS: Browns Ferry Gardens is located on Highway 51 (Browns Ferry Road) 15 miles inland from Georgetown, SC, 70 miles north of Charleston, and 50 miles south of Myrtle Beach
Phone (843) 546-3559 Fax (843) 546-0318
Minimum order $75.00
Plants less than $20 will not be shipped mail order. They are availabe for garden sales only.
PayPal® Shopping Cart: Shipping fees are automatically calculated for you at checkout
Orders with 1-5 plants - $15.00
Orders with 6- 10 plants - $20.00
Orders with 11- 20 plants - $27.00
Orders with 21-30 plants - $36.00
Orders with 31- 50 plants - $48.00
If you are ordering more than 50 plants please contact us so we can make special arrangements for shipping.

Please include a note to us at checkout including your desired shipping date and a list of desired bonus plants.