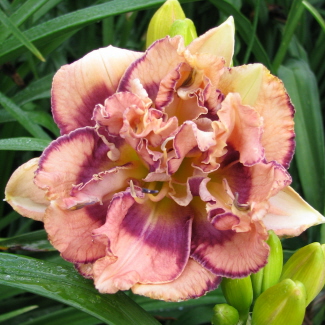 AMY'S SEEING DOUBLE
Retired
(G. TANNER, 2010)
Tet, 5", DOR, M-Re, 22", 18 buds, 2 way branching
(LITTLE RED DRAGON X FRANCOIS VERHEART)
We were so surprised to see this in the seedling bed, since no one breeds for doubles. Amy tried to take it home with her, but we wouldn't let her. This mauve pink with a grape purple eye and edge doubles all the time. Fertile both ways.