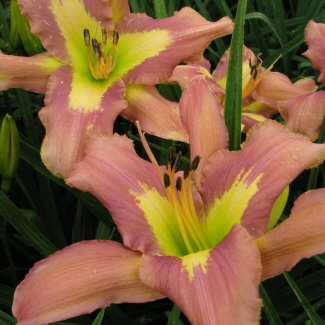 HOPE FLOATS

Winner of the AHS Honorable Mention in 2019
(H. DOUGLAS, 2010)
Tet, 6", DOR, EM-Re, 27", 20 buds, 4 way branching
(ODDS AND ENDS X NEON RAINBOW)
Always blooming in a bouquet on widely branched scapes. This very triangular light mauve pink bloom has a slightly darker watermark above an appliquéd yellow to green throat that sets off the triangular shape. Sepals quill and point up for an interesting effect. Fertile both ways.