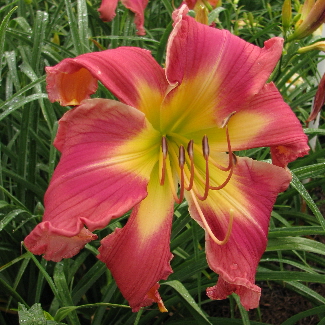 PAPA GOOSE
Retired
Winner of the AHS Award of Merit with 139 Votes!
Winner of the Lambert/Webster Award for unusual forms
Winner of the AHS Honorable Mention in 2015 with 107 votes!!!
Winner of the 2013 Jeffcoat Hybridizer Award
(H. DOUGLAS, 2011)
Dip, 8", Sev, EM-Re, 32", Frag, 18 buds, 3-way branching
(LEE REINKE X TROPICANA TREAT)
This big boy got my attention the first time it bloomed. Big, tall and curly, a coral pink with a darker pink eye and curling petals and sepals. The large orange yellow throat can be seen on the sepals and fades into a small green heart. Diamond dusted and slightly ruffled. Tall scapes are strong enough to hold multiple large blooms and not need staking. Named for Papa Goose, who comes every spring to nest in our pond with his mate. Fertile both ways.